Redicycle is considering raising capital through a Regulation Crowdfunding campaign to be conducted by Fundify Portal, LLC. We are running this "Test the Waters" campaign (branded by Fundify as a Fast Pitch Preview™) to gauge Investor interest and also determine the appropriate funding method. During this Test the Waters campaign, (1) no money or other consideration is being solicited, and if sent, will not be accepted; (2) no offer to buy the securities can be accepted and no part of the purchase price can be received until the offering statement is filed and only through Fundify's funding portal platform; and (3) a prospective purchaser's indication of interest is nonbinding.
Summary
We are looking to secure funding to grow our team to a total of five developers and one marketing manager. This would require three new personel hires as well as an additional room in our current coworking space or a larger office space in a new location. With this, each new hire would require hardware to properly perform their duties at a fixed maximum cost of $2000 per person. The rest of the funds will be put towards continued payment for working space and associated costs (utilities, transportation, etc).
These costs will fuel the company for nine months. At which point, we will revisit the need to raise more funds.
Problem
Right now, too many people are unsure of what products can and cannot be recycled. For instance, pizza boxes are not able to be recycled due to the grease residue deposited during transport. Some types of disposable hot beverage cups are not hard to recycle due to the plastic lining that is added to the inside of the cup during the manufacturing process.
Test your skills below, can you determine which cups can be recycled and which can not?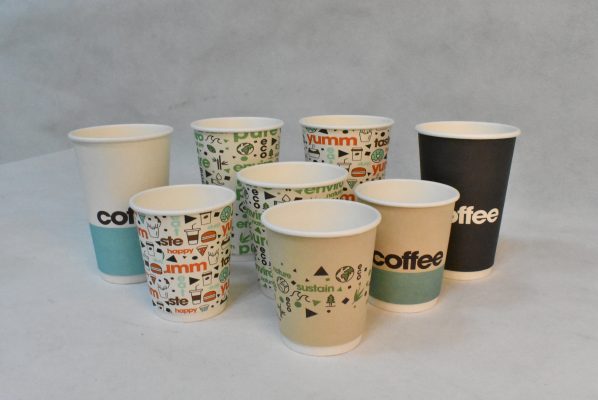 Email your answers to testyourluck@redicycle.com for a chance to win some exclusive swag.
Thankfully, our local politicians and experts have worked diligently to provide education opportunities in the form of Community Meetings on Resource Recovery and Seminars on Living Waste Free. In Austin, you can get infographics that tells you what you can recycle and how to group your recyclables. They will even mail you a large poster for free just by going to www.austinrecycles.com and submitting your mailing address.
All the efforts and campaigns only have a marginal impact where the United States only recycles 35% of its waste compared to Germany who recycle 68% as the most efficient country[1]. While noble and praiseworthy, the current methods of dealing with the growing rate of consumption only attempt to resolve its outome and not its source. Tapping into the devices people use each day, their phones, provides an opportunity to inform the consumer at the very moment they make the decision to recycle.
Solution
Our solution is to bring a fully featured barcode scanning app that tracks what you recycle. It also gives you up to date information about how much recycling you've done in the past year, month, day and can tell you how you compare to your friends, family, and community.
It can provide valuable information about how you should recycle certain materials and what can not be recycled.
Product
Enter Redicycle. Our application injects itself at the catalyst point where you, the consumer, decide how to dispose of the product. Should it go in the trash bin where it could eventually end up in a landfill and sit for centuries? Or can it be put it in the recycle bin where it can be repurposed or reused?
With a simple scan of a barcode, we can tell you what you should do with it. In turn, you can feel confident about your decision and proceed with your day knowing your waste will end up in the right place. Is the barcode missing? No worries, just take a picture of the entire item and we can quickly tell you what your next steps should be. Not in a good spot to recycle your waterbottle? Quickly open up the app and we will tell you where the closest recycling bin is located.
With Redicycle, you can take the proper steps from the beginning without even needing to think twice.
Business Model
We will offer gift cards and discounts in the form of coupons tailored to the products you recycle. Based on the products submitted by the user, we will tailor a suite of coupons to their most common items. We will also offer coupon groupings that have similar items.
Traction
Referrals will allow us to grow our audience while creating a friendly and competitive environment amongst our users. We will also gain traction through marketing as sponsors for festivals that sell waterbottles. This put us in front of the user's eyes at the same moment they are holding an actionable item that can be used in our system.
Competition
There is not much competition in this space, it exists mostly in the b2b space. Products that scan are mostly used for tracking inventory in offerings that cater to shipping and storage logistics.
Market
The market opportunity is very large and consists of all consumers who use products that are stored in plastic containers.
Company Vision
Years down the line, the vision includes automatic scanners so the user no longer needs to use their phone. Physical hardware will exist around lip of a recycling can that can scan barcodes as they are passed through the system. On of our goals is to partner with a large university and have these installed on all recycling cans on campus. This will give the university the means to study the effects of their student population in regards to their recycling habits.
Investor Interest
Funding Interest So Far
$1,009,760
Offering Terms
Funding Goal
$500,000 - $1,070,000
Closing Date
Feb 28, 2021 4:00 PM PST
Login or sign up to reserve
Reserve your spot in line
Edit your reservation for Redicycle